While a minority of fans in the stadium, many women supported Newcastle United in the 1950s.
The 1950s was a great decade to be a Newcastle United fan! The club won the FA Cup three times, in 1951, 1952 and 1955. The club had many outstanding players, most notably Jackie Milburn.
At this time, to many if not most fans, winning the FA Cup was seen as more important than winning the Football League First Division title. As Beatrice says:
"I can't remember the league being very important, it was more about the Cup"
This was a decade of the 'magic of the FA Cup'.
However, the football stadium at this time was heavily male-dominated. Eliza recalls that:
"There weren't very many women. No, I didn't feel that I was the only female there. But I don't remember seeing a lot of women."
Beatrice first went to see Newcastle United in 1948, when attendances were at an all-time high:
"I was the only girl, I was the only girl then. So I learned to appreciate what football was all about then and what players were there."
But this wasn't due to lack of interest. There were social barriers to girls and women going to the football.
Girls wanted to go but were often prohibited by their parents due to concerns over their safety. Winslot recalls that her father:
"didn't think at that stage, it was safe to take me to matches, you know, because there's all standing and big crowds and so on. So, I got taken to the odd reserve match or junior match, but, you know, I'd be well into my teens before I probably saw the first team play"
It was also not seen as socially acceptable at this time for women to go to the match on their own. Beryl remembers that her father got so poorly "that he couldn't go to the matches. He couldn't stand. And I never went on my own. I couldn't, I wouldn't do that. Well you didn't do that.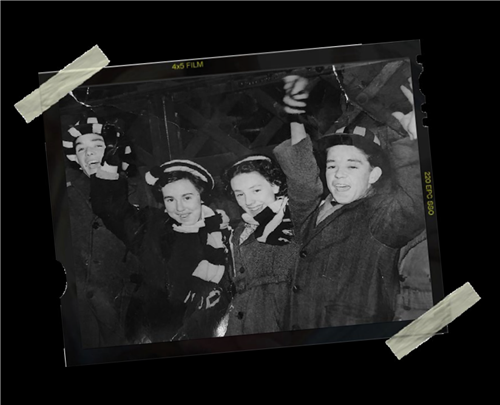 Photo Caption: Mary at Newcastle train station, April 2nd 1952, going to Leeds for the semi -final replay against Blackburn Rovers