The facilities, refreshments and half-time entertainment were very limited, compared with today. The lack of toilet facilities for women fans was a particular problem, as Beatrice recalls:
 "Oh you couldn't go to the toilet, it was out of the question! Oh no, you would hold your water. There was some nasty tales going around about what happened with the men peeing into bottles and things like that, but no, no, I couldn't go to the toilet, out of the question. And fortunately, there are toilet facilities now."
Bill remembers that
"In 1956 I took my then new girlfriend to her first football match, and we stood in a packed crowd on the corner terrace at the eastern end of the Gallowgate. At half time as it was difficult to move a number of men relieved themselves where they stood and my girlfriend not only got a good view but very wet feet and spoilt new shoes….
….She did not go to another match for many years when she was able to sit in the more modern stands but she did marry me and we had many happy football experiences until she died some 20 years ago."
Ava recalls that the half time drink was usually Bovril, a 'beef tea' drink:
"I would go and get some Bovril and they would put pepper in it. Phew! I got the first lot and I thought "Crickey what have you got in here?'' and she said, "Oh we always put pepper in to heat it up." And I said, "Will you make me one without the pepper?" So after that when I used to go and get it, and she was always on, and she would say, "Oh do you want it without the pepper?" and I said, "I do, I don't want blimming pepper in my Bovril!"
Krystal remembers peanut sellers at half time:   
"And this was good entertainment at half time. At half time the peanut sellers would also walk around the cinder track, throwing bags of peanuts, you know if you wanted them someone would say – I don't know how they did it but throwing bags of peanuts into the crowd, good aim as well, I don't know how they did it, and the buyers would throw the money for the peanuts back to them, and well caught it was as well. Also, and I've got amazing, a fine art, and we used to have a, sometimes they would go astray but nobody would steal it, they would hand it to whoever it was that wanted it, give it to him and then he would throw the however many pence it was, and I mean to me I used to love, we used to say, "this is good half time entertainment", well it was, it was."
The Exiles have written a fabulous song about the peanut seller, called 'Tanner a bag'. A tanner was the name of the sixpence coin of that time:
To listen to Tanner a bag please go to the bottom of the page.
In terms of entertainment, Beatrice remembers the marching bands: "We used to have the military, not girls this was military bands before the match played and at half time. That was the entertainment."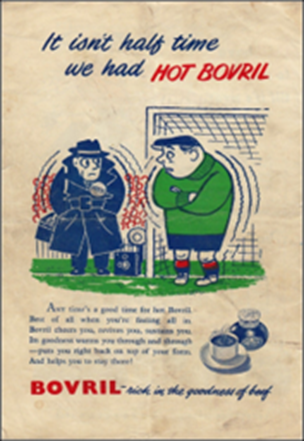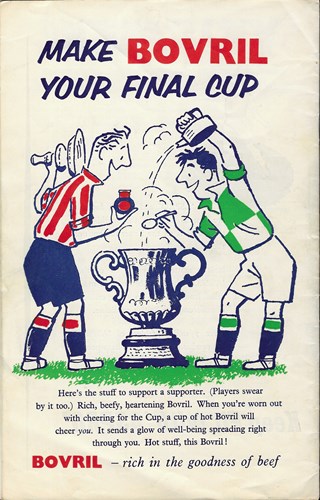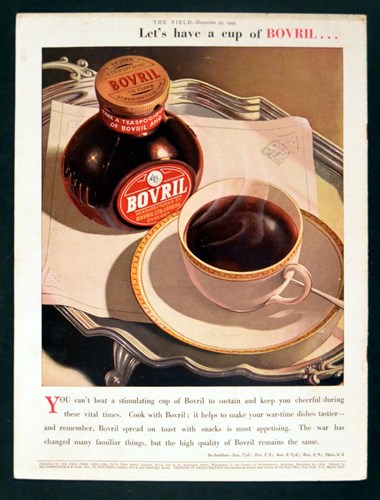 Bovril, which can be drunk as a 'beef tea', has long been closely associated with football, and drunk at football matches.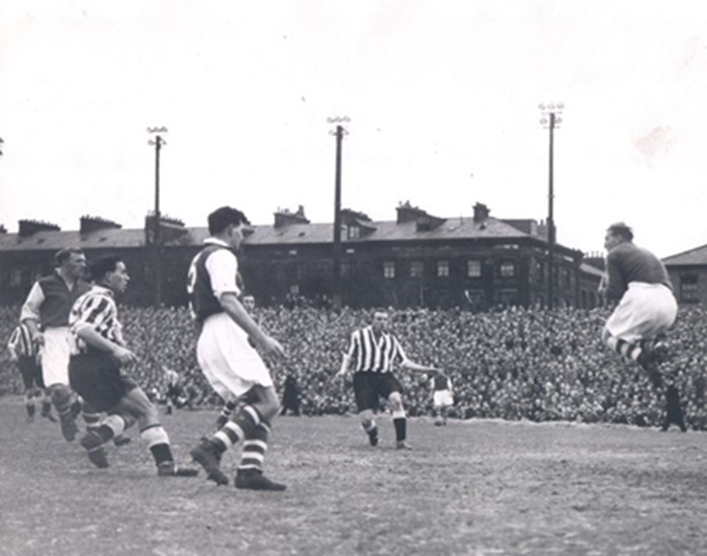 Match v. Rotherham, 1953.
Image courtesy the Newcastle Chronicle.
The Exiles: 'Tanner a Bag'