Beatrice says of Jackie Milburn:
"No he wasn't my favourite player,  I liked him a lot but I didn't see a lot of him, as he was sort of on the wane when I was watching. But my favourite player was Ivor Allchurch. He came I think he was about 30 when he came and cost a lot of money, I think £30,000 and they met him at the railway station and can you imagine that today? ... He was a tall, well tall for then I mean, he would be about six foot, blond, elegant player. And the first match that we went to see him he came down the pitch with the ball and then whacked it with his left foot and scored a goal. I thought, 'My goodness.' I liked players like him".
Beatrice is close – it was £28,000! Ivor John Allchurch MBE (1929 –1997) was a Welsh professional footballer who played for Swansea Town, Newcastle United and Cardiff City, as well as the Wales national football team. Known as the "Golden Boy of Welsh football", Allchurch played as an inside forward, and began his career playing for his hometown side Swansea Town where he spent over 10 years, captaining the side for several seasons and scoring over 100 goals in all competitions.
He attracted attention from numerous clubs during his early years with Swansea but chose to remain with the club until the age of 28 when he joined First Division side Newcastle United. Signing in 1958 for a fee of £28,000, he formed a prolific strike partnership with George Eastham and Len White. During his career, Allchurch won a total of 68 caps for Wales, His talents were more widely recognised after his performance for Wales during the 1958 World Cup, in which he scored twice and helped them to reach the quarter finals.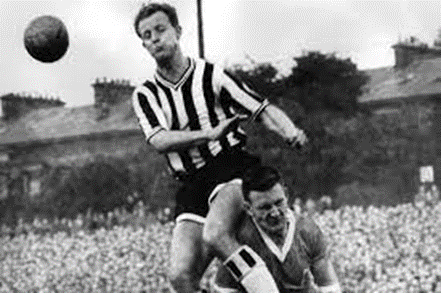 Ivor Allchurch in action for Newcastle United