Leonard Roy White (1930 –1994) played as a centre-forward and is most noted for playing at Newcastle United. Impressively, he is the third highest goal scorer of all-time at Newcastle United.
White started at Rotherham and joined Newcastle United in 1953 for £12,500 – which was a fairly high sum at the time. At Newcastle, White was mainly partnered up front alongside Jackie Milburn during the 1950s. He had a very impressive goalscoring record and was instrumental during Newcastle's FA Cup-winning campaign of 1955. When Milburn retired in the late 1950s, White took over as the leading striker, and continued to improve his goalscoring. In 1962, he left the club for Huddersfield Town.
White is currently the third highest goal scorer in Newcastle United's history with 153 goals from 269 appearances. Only Jackie Milburn with 200 goals and Alan Shearer with 206 goals have scored more.
Beatrice remembers him well:
"They had a fantastic centre forward called Len White who only got a few games with England and one game I think he scored four goals and he was overlooked you know."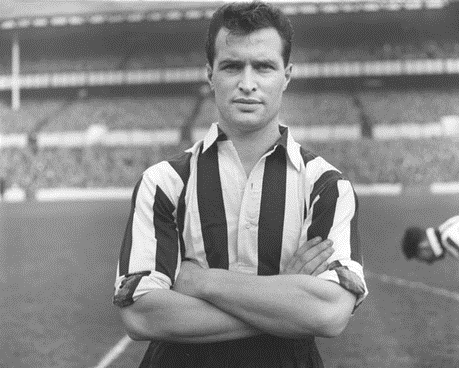 Len White
Image courtesy of the Newcastle Chronicle