Two other players that are also very fondly remembered are the brothers 'George' and 'Ted' Robledo. 
Jorge "George" Robledo Oliver (1926 –1989) was a Chilean professional footballer. He played as a striker, and is most notable for his time spent with Newcastle United. He was the first non-British-registered foreign player to become top scorer in England.
Robledo was born in Iquique, Chile, to a Chilean father and an English mother. He emigrated with his family to Brampton, Yorkshire in 1932, at the age of five
Robledo started his footballing career at Huddersfield Town, playing as a part-time amateur while he earned his money coal mining, though he never managed to break into the first team. He was able to give up coal mining when he moved to Second Division Barnsley during World War II. First Division club Newcastle United signed him on 27 January 1949, for a fee of £26,500. The fee included his brother Ted. This is because Newcastle were only interested in buying George but he refused to move without his brother.
Together with his friend Jackie Milburn, George Robledo made one of the great striking partnerships in Newcastle United's history. Robledo finished as Division One's top scorer in the 1951–52 season with 33 goals, 39 in all competitions.
His brother Eduardo "Ted" Robledo Oliver (1928 –1970) played as a left-sided defender, and is also most notable for his time spent with Newcastle United. Ted was aged four when the family moved from Chile to England.
Ted Robledo started his footballing career at Barnsley with his brother George in 1949. He mostly featured for Newcastle in the 1951–52 season. He played for Newcastle until the end of the 1952–53 season, when he was sold to Chilean club Colo-Colo, and his brother George soon followed him. Once he retired from football, he served on an oil tanker and died in mysterious circumstances in 1970, at the age of 42. There were rumours that he was thrown off the tanker and drowned.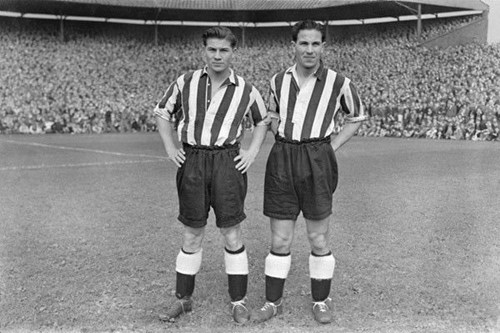 Ted Robledo on the left and George Robledo on the right.
Fans remember the Robledo brothers
Joan was a big fan of the Robledos and fondly recalls going with another female friend to watch George Robledo come out of his home.  This illustrates the star quality of players and their appeal, even when they lived amongst the local people:
"The Robledo brothers were from Chile, and I always remember Mrs Robledo would stand with her two sons – she was very proud, she was so proud of her two sons … George Robledo, he had a flat and it was near Marlborough Crescent. We used to go along and watch for him coming out. And we used to follow him to see where he was going. [Laughter] Ey, God, honestly! The very idea. Our Deirdre and me, we used to, "Ohhh, George!"
Simon recalls that his aunt was a big fan of the Robledo brothers, and knitted scarves for them:
"I guess that's 1950s flirting at its best!"
Mary and her friend Maggie, who she went to St James' Park with, went one step further, also found where the Robledo's lived. She was especially fond of George Robledo:
"Maggie and I found out where they lived up Barrack Road, so we decided we'd try and find the house. We did we found it but they were away. And his mam was in the garden, I knew it was his mam because I'd seen a photograph of her and the two boys.  She couldn't really speak to us and just said, "Newcastle supporters" and we gave a wave and that, we thought eh, that's great.  But they were away at the football…. Oh George Robledo was fantastic, he really was, brilliant player.  We had some marvellous players…. I wouldn't say he was good looking but he was, I think it was just his ability and that and attacking, we got so attached,  as I say we had great players, great, great players."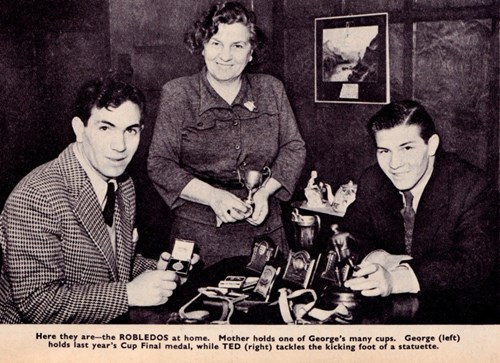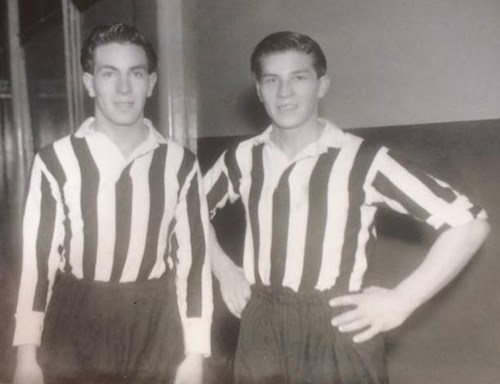 George and Ted Robledo.
There is an excellent website dedicated to the story of the Robledo brothers and their family. This is  by Chris Brook and can be found at https://robledobrothers.wordpress.com/