Krystal got into football first by watching some of the excellent amateur teams in the north east region. One day her father said:
"I'm off now, do you want to come Krystal?", and mother would say, "for goodness sake, she's a girl, not a boy", "well that doesn't matter, there's women who go to football matches, not a lot, but they go. Well look I'll tell you what, if ever you want to go, let me know", and off he would go. And then he would come back, "you missed a smashing match, we won 3-1, bla bla bla," and then I would say, "who scored?", "Billy Wright was the scorer of the day", so eventually I thought, 'I wonder if I should go', so I said, "daddy, can I come?", I must have been about eight, "can I come with you?", well if I was eight that would be 1951.
Krystal had relatives that lived in Camden so if they went to visit them on a bank holiday they would watch Bishop Auckland, a highly successful local amateur club. She also watched Darlington.
Krystal:
Well yes, because I was born in 43. So, "of course you can", "we didn't have a son, we had a daughter", but then I hadn't any brothers or sisters, so anyway he took me and of course I didn't know the rules, "what's he doing there daddy? What's that for?", so anyhow that was how I found out about football, and then as I say these relatives lived in Camden and we used to go Bank Holiday weekends, I used to, if I was a child now I'd be off there, and we'd see where Bishop Auckland or Darlington were, and if one of them was at home that weekend we'd travel off there, and bit by bit I found I was going to just about every match with him, and it was because of that, my father is the one who introduced me.
Krystal remembers Bishop Auckland had a good amateur team. She recalled some of their players played for Manchester United after the Munich Air Crash before they could buy more players. She remembers how everyone idolised the Busby Babes.
Krystal says:      
"Funnily enough I remember distinctly, Bishop Auckland was a very good….a very good amateur team at the time and they had two very good players who remained amateurs; one was Bob Hardisty and another one was Ray Oliver. They were so good that people were helping out left, right and centre, and some actually played for Man United after the crash until, with others from other, you know people were keen to lend players to help them out, and they actually, those two played for Man United just for a short while until they managed to buy players to strengthen the team again. But it was a devastating time for football, I mean we all idolised Man United and the Busby Babes.  They were at the top of the tree."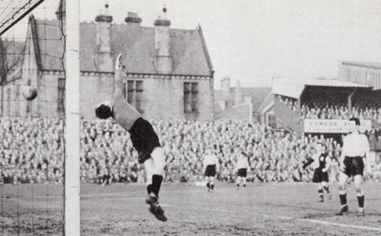 Bishop Auckland FC in 1957