Most often women went to the match with family and friends. As Joan recalls:
"There was a lot of women went.  There was a lot of children went.  You could see your whole family in front of you. I think it was the mother said, "Well, if you're going, I'm going."  And the older son would want to go, and the little girl would want to go.  So, there was whole families ….. People  would take care of you.  People would speak to you, and you got to know people, because everybody went to the same part, every week.  So, there was that family, and that family.  And then, you'd go and have a chat, and then you'd come back." 
Mary remembers how fans would see the same groups of people at matches each week:
 "There wasn't too many females, there wasn't too many women went to games then, but the men were very good.  If somebody said the wrong word, it was very, very rare, "girls down here", and that's how we got really close, and we saw the same group of people every time we went to the matches.
If it was a special game we went into what they called the Paddock, which was a small area, we always went up to the Leazes Paddock, and we stood there for all the cup ties and things, we went and got tickets for that."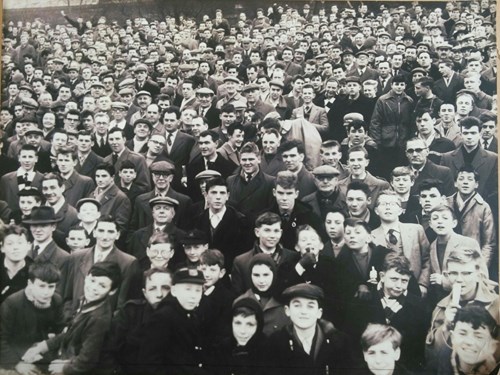 On the terraces at St James' Park, 1950s. Can you spot any women?