Although Newcastle United were never really in the challenge for the League title in the 1951-52 season, this was an even more exciting season than the last. United became the first club since the early days of the FA Cup to win it two years in succession and in all competitions they notched a total of 113 goals.
The FA Cup run produced some thrilling games as United saw off the challenge of some top opposition, including four of the top six League sides: Aston Villa (6th), Tottenham (2nd), Portsmouth (4th) and Arsenal (3rd).
Although they never performed consistently in the League they were involved in some classic games, including a 7-2 home victory over reigning champions Spurs. In all they scored 98 goals (making them top scorers) with 73 also going in at the other end. They averaged three goals a game at home as Milburn and Robledo (the country's top scorer) formed a dynamic partnership up front.
The route to Wembley was as follows:
| | | | |
| --- | --- | --- | --- |
| Third Round | 12 Jan 1952 | Newcastle United v Aston Villa | Won 4-2 |
| Fourth Round | 02 Feb 1952 | Tottenham Hotspur v Newcastle United | Won 0-3 |
| Fifth Round | 23 Feb 1952 | Swansea Town v Newcastle United | Won 0-1 |
| Sixth Round | 08 Mar 1952 | Portsmouth v Newcastle United | Won 2-4 |
| Semi-final | 29 Mar 1952 | Newcastle United v Blackburn Rovers | Drew 0-0 |
| Semi-final Replay | 02 Apr 1952 | Newcastle United v Blackburn Rovers | Won 2-1 |
Footage of Newcastle's 4-2 third round win over Aston Villa can be viewed at: 
https://www.britishpathe.com/video/f-a-cup-3rd-round-newcastle-v-aston-villa-4-2/query/newcastle+united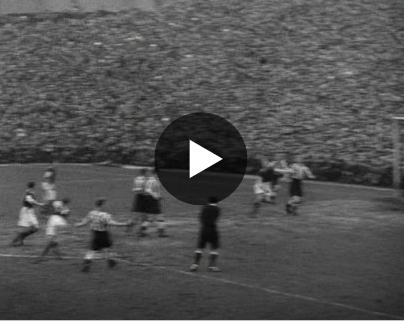 Andrew recalls that:
"My mum and dad attended the 4th round of the FA Cup away to Tottenham in February 1952, which Newcastle won 3-0 on route to the final. I was born on March 16 of that year, so my mum would have been at an advanced state of pregnancy. She was all of 5 feet tall, and the story goes that she was allowed to stand on some kind of wooden crate in order to see the action. She was 21 years old at the time. Her auntie Jane, with whom she had lived on Salters Road in Gosforth before getting married in 1949, was highly displeased when she found out about this reckless behaviour, especially as my mum had previously suffered a miscarriage. As it happened, I was born six weeks prematurely, i.e. only 6 weeks after this trip to London. Perhaps Jane's fear of the consequences of "all that excitement" wasn't entirely off the mark."
You can watch British Pathé newsreel footage of this match at:
https://www.britishpathe.com/video/tottenham-v-newcastle-aka-newcastle-beat-tottenham/query/newcastle+united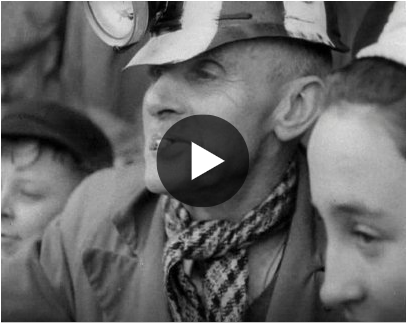 Maybe Andrew's mum and dad are even in the footage!
BBC News coverage of this game included shots of the Newcastle United magpie mascot!
https://www.youtube.com/watch?v=EdQctlLyhTM
More coverage of this game and the fans, without sound, can be seen at:
https://www.britishpathe.com/video/selected-originals-tottenham-v-newcastle-aka-newca/query/newcastle+united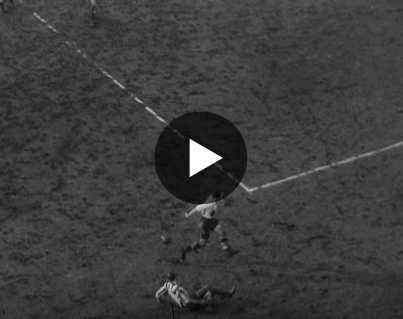 Film footage of Newcastle's win at Swansea in the Fourth Round, from British Pathé, but without sound, can be seen at:
https://www.britishpathe.com/video/selected-originals-f-a-cup-5th-round-football/query/newcastle+united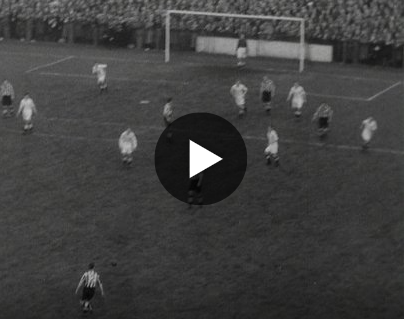 You can watch British Pathé newsreel footage of the Sixth Round game which Newcastle won 4-2 at Portsmouth, at:
https://www.youtube.com/watch?v=ClDyuWVwuzM
British Pathé News cinema newsreel footage of Newcastle's 1952 FA Cup semi-final replay v. Blackburn Rovers can be viewed at:
https://www.britishpathe.com/video/newcastle-blackburn-replay/query/Newcastle+united