Eliza was born in 1928. She was nine years old when Albert Stubbins first joined the club. She says that:
"The first player that I remember was Albert Stubbins  He was called a centre forward in those days".
Albert Stubbins (1919 –2002) was born in Wallsend, but spent his early years in the United States, returning to Wallsend in 1929. Stubbins first played for Newcastle United in 1937, making 30 appearances and scoring six goals. In wartime games for Newcastle United (classified as friendlies) he scored 188 goals in just 231 appearances. In 1946 he was signed by Liverpool for a then club record of £12,500. Stubbins was highly successful at Liverpool, scoring 75 goals in 159 appearances, between 1946 and 1953.
Jackie Milburn remembered that "Red-haired Albert Stubbins, our centre-forward, was the star turn… Storms were of course ahead. Albert Stubbins  decided he wanted a move. Liverpool stepped in and signed this prince of good fellows, and we all wondered what was going to happen next."
Stubbins was immortalised on the front cover of The Beatles 1967 album, Sgt. Pepper's Lonely Hearts Club Band, along with numerous cultural icons including: Bob Dylan, Tony Curtis, Oliver Hardy, Oscar Wilde, Marilyn Monroe and Marlon Brando. The band were asked to provide names of who they would like on the cover by the artists  Jann Haworth and Peter Blake.
Paul McCartney and his family were Stubbins' fans. The Beatles sent Albert a copy of the album, signed by all four members of the group, along with a note that read: "Well done, Albert, for all those glorious years of football. Long may you bob and weave."
There is a fascinating articled in the Newcastle Chronicle on this by Matthew Ketchell:
https://www.chroniclelive.co.uk/sport/football/football-news/newcastles-wartime-messi-immortalised-mccartney-21394467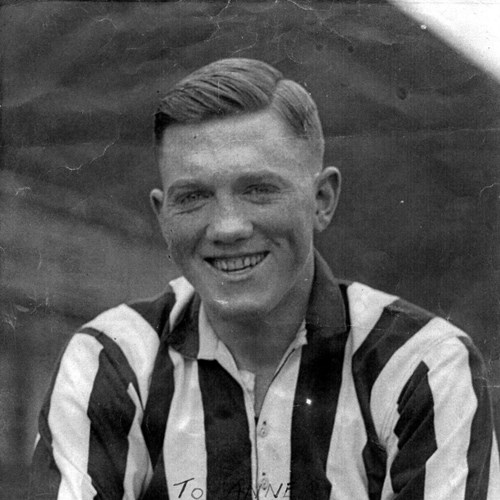 Albert Stubbins at Newcastle United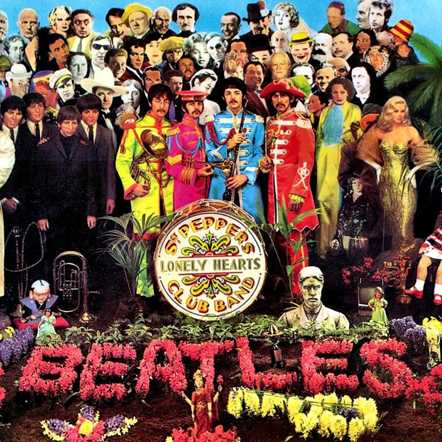 Sgt. Pepper's Lonely Hearts Club Band album cover, 1967.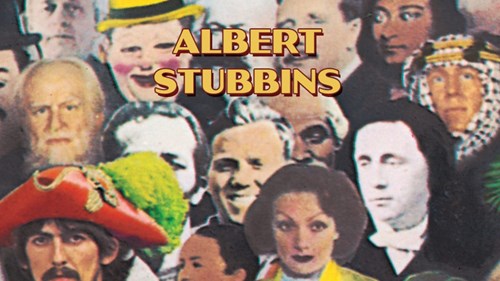 On the cover Albert Stubbins  is to the right of George Harrison, just behind Marlene Dietrich.