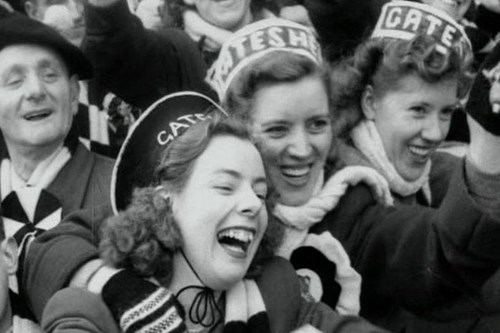 Gateshead fans at the FA Cup  quarter-final game against Bolton Wanderers, 1958.
Image courtesy of the Newcastle Chronicle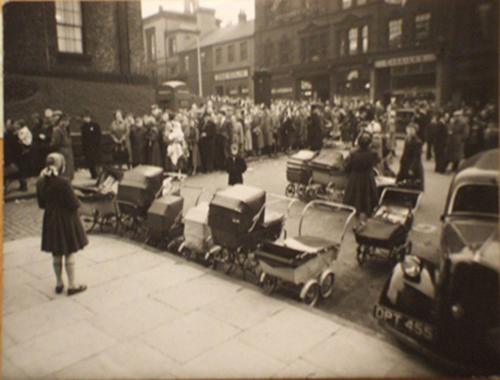 Gateshead fans queueing for FA Cup quarter final tickets against Bolton Wanderers, 1958. Many have parked their prams while they are in the queue!
Gateshead A.F.C. were in the Third Division North of the Football League until 1958, when with the reorganisation to Divisions 3 and 4, they were placed in Division 4. In the 1950s the club enjoyed some relatively successful FA Cup runs. After reaching the fourth round in 1951–52 season, the following season saw them reach the quarter-finals. The run included a third round win over Liverpool, before wins over Hull City and Plymouth led to a quarter final match at home to First Division Bolton Wanderers, who were in the First Division.  A crowd of 17,692 saw Bolton win 1–0.
Film footage of this game can be viewed at:
https://www.youtube.com/watch?v=zijHOK5SgV4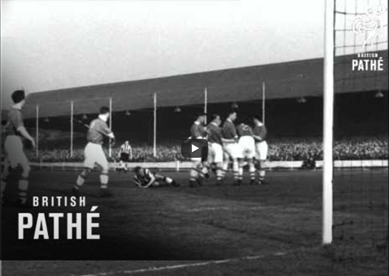 Mary was a Newcastle United fan but also used to go and watch Gateshead:
"Two or three we used to go and watch Gateshead at Redheugh Park, because they had a good team they did then, in them days. They really played well.  we loved the football, I said Gateshead at home, we'll go and see them. It's because we thoroughly enjoyed football."