Krystal remembers how the West Stand had a wooden floor, rather than concrete, which played an important role in generating the match-day atmosphere:
"When you had Newcastle on the attack people used to do that (stamps feet) and the whole of the West Stand used to shake, and of course now with concrete you do that and there's nothing".
Beatrice remembers how crowded it could be:
"Yes, when you think of it now how people didn't get killed I do not know, because looking down at the Gallowgate end, that was the popular end as it was the cheapest, whenever there was any exciting part in the play everybody sort of moved, it was like watching a waterfall. They would all just tumble down and then all go back up again".
Beatrice recalls that her father worried that she might get hurt in the crush of the crowd:
 "His (biggest worry was that I would get hurt. So, he took us to where the John Hall stand is now but it was the Leazes End then and it was covered and the roof went round to the corner and if you stood there it was a very unpopular place to stand because you couldn't see right up the touch line to the corner,  so not many people stood there…
… It was quite frightening really. So most of the young boys were put down on the pitch side, they sat on the side of the pitch and if one of them was being pushed around the men would lift them up and pass them down over their heads down to the bottom and they would sit there. I didn't want to go and sit among the boys."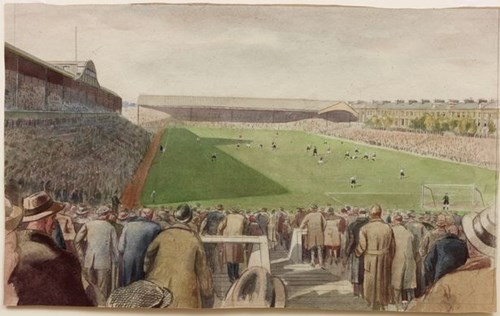 St James Park, about 1950
Ava initially sat in the Leazes End and then went in the Paddock and recalled how compact supporters were on the terraces:
"No I wasn't in the Paddock straight away he did get me a season ticket. I was in the Leazes End and umm I was standing and I always remember the first match I had had some sweets in my pocket and we were that jam packed I couldn't get into my pocket to get my sweets! ....
…  Oh it was never the same when they seated everything. I mean there I always went in the Leazes End, I never went in the Gallowgate End. People used to, I think mostly older people, went in the Gallowgate End, but the Leazes End was sort of for the younger ones but you were packed. I mean sometimes you could hardly breathe, and dad said to me, "You shouldn't be going in there."