It may seem surprising today, but in the 1950s fans of the home and away fans mixed on the terraces, with little or no trouble of any kind:
As Mary recalls:
"You mixed with everybody, there was not segregation.  When I went away with Newcastle, it was always the same crowd went on the same coach.  And away you were mixing with the home team crowd."
Judy agrees:      
"I started going 1951. We never had any bother. I cannot remember any bother at all with any of them. With a derby. With anything. Nothing. There were no problems at all."
Beatrice also found this:
"There wasn't the animosity between the two teams then, none of that. I mean when we were watching football all the fans mixed in together, there was no you know special place for the away supporters they just mingled in with us. You could be standing next to an away supporter and there wasn't the sort of rivalry like there is now… They weren't drinking and if they were swearing they would shut up. My dad would say, 'There is a girl here, a woman here,' and they would shut up."
Krystal remembers that even swearing was discouraged, if women were present:
"Now, on very, and I mean very rare occasions, once every two seasons, honestly, if there was a man near a woman, me or anybody else, someone would tell them to watch their language, there's a lady here, and they would turn round and say, "I'm awfully sorry, I didn't know you were there", and that was it; you never heard them swear again."
Krystal also remembers that the home fans would applaud a good move or even a goal by the away team:   
"In fact people in those days used to applaud, if there was, not just Man United, if an away team did a good move – don't laugh – or scored a goal, where there's now an absolute silence, if it was a good move, Newcastle supporters would applaud, that's the truth."
Newcastle United's great player Jackie Milburn noted this at the time in his autobiography:
"When you are playing at St. James' Park, and a move is being built up, you can hear the crowd murmuring. Slowly, as the ball is switched from one player to another, the murmur grows into a shout; soon the shout develops into a roar. You see those 'Geordies', being soccer wise, are down there on the pitch with you. They're thinking ahead and know where the ball ought to go. These fellows, too, are most appreciative of good play, whether it be produced by either Newcastle United or the  visitors".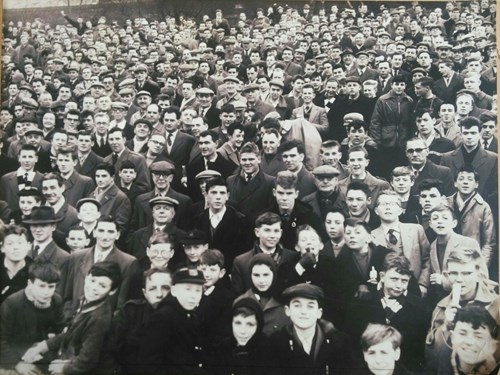 On the terraces at St James' Park, 1950s