Beryl's dad passed away in January 1951. The club got to the FA Cup final in May 1951. She used his season ticket to go to the final, for her dad. The local butcher said she could go with him and put her mum's mind at ease.
As Beryl recalls:
"I laugh about it now. But he would never have got one you know. No. It was all of £14. Which was a fortune. Really was. And my dad got worse. And Newcastle were going, oh they were going great guns. And it looked as if they were going to get to the Cup Final. And that Christmas, my dad was very bad. Really ill. And he died on 10th January. And well, just a light had gone out for me you know. For all of us, he was the life and soul of the party when he was all right. And of course, Newcastle were proceeding to the Cup. They were doing well. And they got to the final, 1951. And because he had a season ticket, I'd gone with the season ticket a few times (to St James' Park). But because he had a season ticket, he could have a Cup Final ticket. So I said, "I'm going to the Cup Final." And my mother said, "No you're not. How are you going to go to the Cup Final?" And I says, "Well I'll have to for my dad. It's for my dad. It's not for me. It's for my dad." Well we got the ticket. And my dad had some very nice friends. And one of them was the local butcher. And he came to see my mum, and me, but it was really my mother, and he said "Beryl could come with us." They were going on an organised trip on the train. Well I knew them all you know. And I was thrilled to bits. "Oh yes!" So, that was how I got to the Cup Final."
Beryl remembers looking around London on the morning of the FA Cup final and seeing lots of Newcastle fans. They went down on the train. If she closes her eyes she can see Jackie Milburn running down the wing. On the way home they all fell asleep on the train:
"We went very early in the morning. And we had time to have a look round London and some places. I remember going into St Paul's, it was like being in Felling Square, there was that many people from Felling, and "Oh hello!" All the Newcastle supporters were there. I know we went into some other places. But it was St Paul's that really got me, because there were so many of us there. I'd never been to London before….
…. And eventually we got to the right place. We had something to eat. And then we went in. And it was, ee, I thought that was marvellous. All these people - I had the black and white something or other round my neck. That's all I had. But it was the crowd. So many people. And then of course when it started, excitement. Because - I shut my eyes, I can see, well I think I can, I can see Jackie Milburn running down the wing. Oh it was marvellous. It was just - it was wonderful. You know, you were sort of, in the air, you know. So excited about it. And of course you had to come home. And we were booked on this train. And we had time to go and get something to eat. And this always impressed me because it doesn't happen now. People weren't drinking. I mean they hadn't the money that was the trouble, they didn't have money. And I don't know, we had something to eat, and got to King's Cross, and we got on the train. And everybody's wahey, you know, wahey aren't we good. Shouting and clapping each other's hands. And oh dear me. And by about an hour on the journey, everybody was asleep. Now that wouldn't happen now because they'd still be drinking you know. Everybody was asleep. It was a marvellous experience."
Beryl remembers that immediately after the game many Newcastle United fans felt sorry that the great player Sir Stanley Matthews, of the opposition team Blackpool FC, had yet again failed to get an FA Cup winner's medal: 
"When the match was over. And they were going off for the awards. Somebody said in the crowd, look he's crying, he's crying, Stanley Matthews is crying, he'll never get another chance."
Jackie Milburn said:
"Then I saw Stanley Mathews, a half-smile on his weather-beaten face, trying to hide what must have been a bitter disappointment to him. And I felt a lump in my throat. After all, everyone with the exception of those with Newcastle associations wanted to see Stanley win a Cup medal".
Beryl's impressions of Wembley Stadium and its vast size were: 
 "It was enormous. It was huge. Because you know when you're like that, you don't know where to go and you're wondering which way to go. And it was amazing, the place was lovely. We just all stick together which we did. And coming out, we held on to each other, because you could've easy got lost."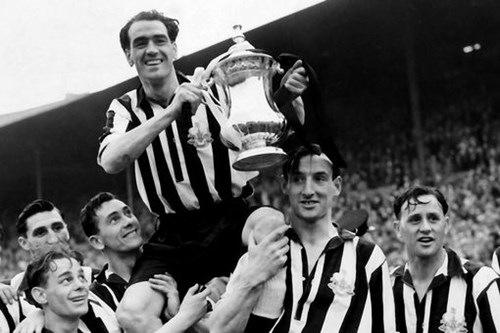 Captain Joe Harvey is held aloft as Newcastle United celebrate winning the FA Cup in 1951.
Image courtesy of the Newcastle Chronicle
There is more coverage of the 1951 FA Cup final here on British Gaumont News:
https://www.britishpathe.com/video/VLVA3CPY5M7DAIXM1H3G40R2Y2DME-FOOTBALL-CUP-FINAL-AT-WEMBLEY-1951/query/newcastle+united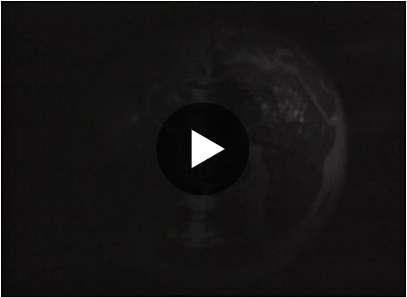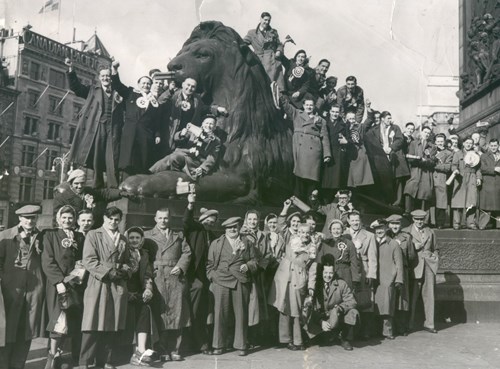 Newcastle United and Blackpool fans mingling in Trafalgar Square, London, before the 1951 FA Cup final. You can see that there are quite a few women fans.