James 'Jimmy' Scoular (1925 –1998) was a Scottish football player and manager. He was generally regarded as a tough, combative player who also had precise passing skills. Scoular made over 600 appearances in the Football League with Portsmouth, Newcastle United and Bradford Park Avenue, as a player-manager. He played 247 games for Newcastle united between 1953 and 1960.
Beatrice remembers him very well:
"There was a player called Jimmy Scoular. He was a Scots fellow and he played right half I think he was. He came from Portsmouth and he was a very stocky player he had thighs like that [gestures to show wide legs], and he was a dirty player. But he was a good player too,  but when a tackle came you know he did not look because it was both feet. I can remember quite distinctly one terrible day when it was pouring with rain and the pitch was so muddy that only the heavier players could run around in it. And he knocked a player over and then ran over the back of him to chase the ball and for the rest of the match that player had his foot mark on him….But he was a good player."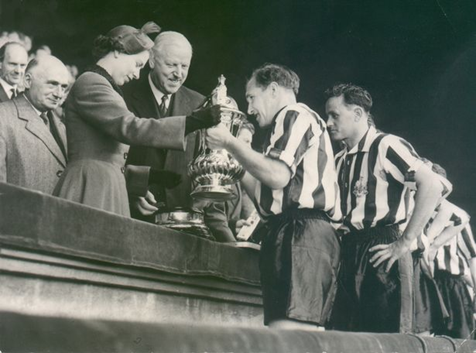 Jimmy Scoular, the Newcastle United captain, receives the FA Cup trophy from Her Majesty the Queen at Wembley, 1955.