George Edward Eastham, OBE (born 1936) played for Newcastle United, Arsenal and Stoke City, and was also a member of England's 1966 World Cup-winning squad.
Eastham played a pivotal role in overturning the 'retain and transfer' system in England (nicknamed the slavery rule) which effectively tied players to their clubs. The court ruled that this amounted to an unreasonable restriction of trade. This proved a landmark in improving players' freedom to move between clubs and contributed to the shift of power from clubs to players.
Eastham began his career with Northern Irish side Ards before joining Newcastle United in 1956. He played as an Inside forward but then shocked the club by demanding a move away which Newcastle rejected. After taking his case to the courts and winning, he joined Arsenal. He played 124 times for Newcastle between 1956 and 1960, scoring 29 goals.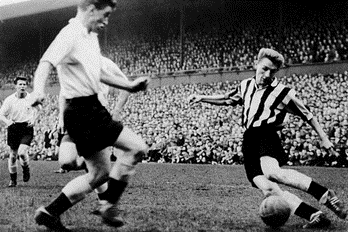 George Eastham (on the right) in action for Newcastle United
Beatrice also remembers George Eastham and the court case:
 "And little George Eastham, who was a slight player and when he first came he would be about five feet seven and about nine stone and in the heavy ground he couldn't last the match. We used to say he was on his knees again but he turned out to be a fantastic player but he went off to Arsenal. And he started this wage war you know; he went on strike at Newcastle because he wanted to leave and then they held him to his contract and they wouldn't let him go and he took them to court. And he carried on his, they did let him go to Arsenal and he played for England but when he went to Arsenal the whole of the football FA was taken to court and said, 'You must allow players to transfer.' And he is the man who started all this wage thing."