How did women become Newcastle United fans in the 1950s?
Joan remembers that it was through a female friend, and then her future husband:
"A girl down the street said, "I'm going to St James' Park."  She was slightly older than me…. I just thought, oh yes, I like that sport, I like that idea.  And I used to tag along with her, you see.  And then, of course, when I met my husband, he said, "You're not interested in football, are you?"  "Oh, yes."  "Would you like to go to St James' Park, floodlit match?"  "Oh, yes."  And of course, that was it.  That was how I got into it. That was 62 years ago" (1954).
Beatrice thinks it was in 1948 when she first went to matches. Her dad came back from the war in 1946, when she saw him for the first time:
"I lived in Gosforth, the poorer end of Gosforth, and we played in the back lanes, and they were mainly boys, and I was a sporty sort of a person, so I just played football with the boys in the back streets. He (her father) would come home from the football match and talk about the players, like Charlie Wayman, he thought Charlie Wayman was wonderful. And I kept nagging him to go and he wouldn't take me, "No, no you can't take a girl to the football match, you would  hear all those nasty things and swearing and blah, blah, blah."… I discovered that the man next door's daughter, he would take her to the football sometimes…so I used that as a lever."
Beryl similarly recalled her father's recollections of Newcastle United and how he fostered an interest in football:
"I was brought up with a dad who lived Newcastle United. I mean he did. He lived football. And that's all he seemed to talk about …. And I just grew up with this talk about Newcastle. And when we got to Jarrow, and the class I was in, was a lovely class. And they had lads that were going to the matches. And they used to talk about it. And I used to come home and talk about it. And my dad was so interested in me being interested that he took us ."
However, whilst men often acted as the 'gatekeepers' to St James's Park, some women fans first attended matches with other female friends. For some younger women, the workplace opened up opportunities for greater independence, both through the opportunity to build friendships with other women, which could lead to social meetings outside of the workplace, and through some level of financial independence which this afforded.
Mary first went with a friend:
"I went with my friend from work, we worked together and we just decided, Maureen was interested as well.  So we just decided we'd go to the game and we went and it was the Gallowgate End.  We always stood in the Gallowgate End, same barrier, me the same people, them days and you were like that (mimics being very crowded),  because there were over 60,000. It was brilliant, and it just got better and better."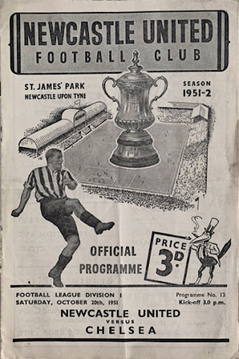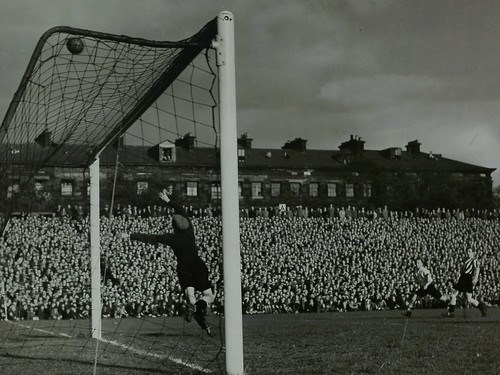 St James' Park, about 1950.