The project has been featured in the media. We are very grateful indeed for this interest and coverage.
Coverage of the women fans of Newcastle United strand of the project includes:
Dave Morton, 'Newcastle United in the 1950s: Calling women who followed the Toon then', Newcastle Chronicle:
https://www.chroniclelive.co.uk/news/history/newcastle-united-1950s-calling-women-16023032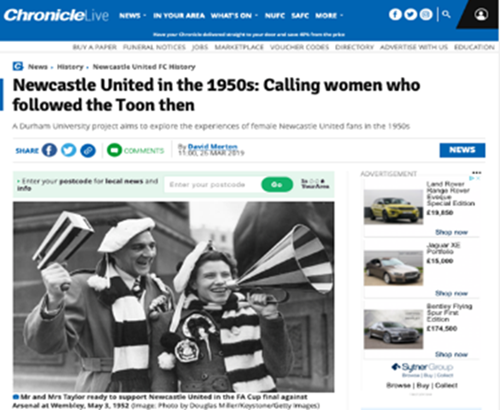 CALL FOR PARTICIPANTS – New Research Project Aims to Shine the Spotlight on Female Newcastle United Fans and Memories of the 1950s Glory Years, True Faith:
http://true-faith.co.uk/call-for-participants-new-research-project-aims-to-shine-the-spotlight-on-female-newcastle-united-fans-and-memories-of-the-1950s-glory-years/
Research on recent changes in attitudes towards women's sport, including progressive and misogynistic attitudes was covered by more than 450 media outlets, including the Guardian, Daily Mail, Sky News, The Sun, The Independent, TalkSport and Sky Sports News. This had potential media reach of 1.8 billion and the work was covered internationally.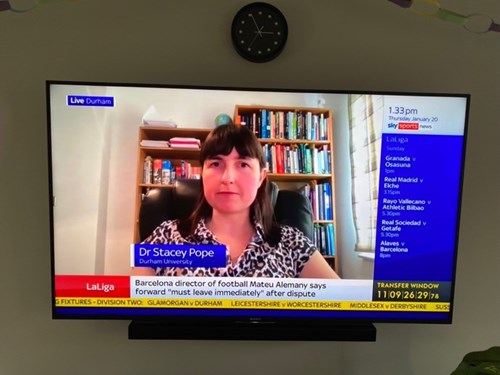 Media coverage of the women fans of the England women's team and media coverage of the women's football's strand of this project includes:
Good Morning Europe: Media coverage of women's sport entering 'new age' during 2019 Women's World Cup, Euro News:
https://www.euronews.com/2019/06/10/media-coverage-of-women-s-sport-entering-new-age-during-2019-women-s-world-cup
Broadcast media coverage can be viewed at:
https://www.euronews.com/2019/06/10/media-coverage-of-women-s-sport-entering-new-age-during-2019-women-s-world-cup