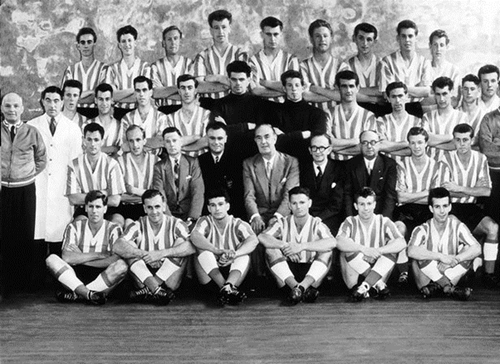 Sunderland A.F.C. squad, 1957-58.
Image courtesy of the Newcastle Chronicle
It may seem odd today, but in the 1950s many Newcastle United fans also went to watch Sunderland play!
As Krystal recalls:
"Father used to take me,  my father used to take me one week to Sunderland and one week to Newcastle. Yes, and can I tell you then, it was, when I say banter it was friendly banter you know, you would say things like, "well Malcolm going to draw his pension? It can't be long now", "oh after he's knocked another half a dozen hat-tricks past you, probably then", and we used to have a laugh. Now, we stopped going years ago because of it, now it is damn right hatred. Now that's what the younger ones are used to, that's not – we used to stand with them, we used to mingle in the crowd, standing shoulder to shoulder; well my father shoulder to shoulder, me lower down, with the Sunderland fans, and there was never any trouble. I know it sounds incredible, we didn't need the police; there was a few, there has to be where there's big crowds for safety, but really no trouble at all, and sometimes when you went, oh I would say, "I know what's happened here, you were here last time", and I'd say, "yes", "obviously you're coming round to the right way of thinking, Sunderland is the team to support", I said, "only because Newcastle are away from home or I wouldn't be anywhere near..,. we mingled…. And it was banter….  I know it sounds too good to be true but it happened, it really did, it did."
Krystal would wear red and white when she watched Sunderland. Everyone was glad when any north east club was successful:
"I went in red and white…. it was my father's idea. Shall I tell you why? Because in those days everybody was glad, it's a north east club, it's 10 miles from us, and everybody wanted the north east to do well, and so yes, I would support them.
Beatrice remembers that:
"I mean this is weird this but I can remember going to Roker Park and not to see Newcastle play -  it was to see Sunderland playing. So, I don't know that we went every week because it would depend on my dad's money and what he was doing but we went most weeks."
Mary recalls going to watch Sunderland with her dad a few times when Newcastle didn't have a match because:
"I really liked football".
Eliza has similar memories:
"Yes because in those days, when Newcastle were playing away from home, I would go with members of staff from where I worked, through to watch Sunderland. One or two of the members of staff were Sunderland supporters. So we would go together. Yes I mean there was banter in those days. Not the way they are now. It wasn't, and as for the derby matches of course, again it was banter. It wasn't necessary to think about not going."