John Edward Thompson "Jackie" Milburn (1924 –1988) was the outstanding player for Newcastle United of this 1950s period. He was also known as "Wor Jackie", meaning "Our Jackie" in Newcastle.
Milburn made his competitive debut for Newcastle in the FA Cup in the 1945–46 season. He played in the three FA Cup winning finals for United; 1951, 1952 and 1955. Despite his achievements, Milburn was reportedly a very shy and self-deprecating individual, whose modesty further endeared him to Newcastle United supporters.
By the time Milburn left Newcastle in 1957, he had become the highest goal scorer in Newcastle United's history. He remained so until he was surpassed by Alan Shearer in February 2006. Milburn remains Newcastle's second highest goal scorer, having scored 200 competitive goals.
Milburn died on 9 October 1988, aged 64. His funeral was attended by over 1,000 mourners at St Nicholas's Cathedral in Newcastle. Tens of thousands of people lined the streets to watch the cortège pass.
Milburn came from an extraordinary footballing family, going back generations, related to many professional players and outstanding amateurs. He was the uncle of Bobby and Jack Charlton.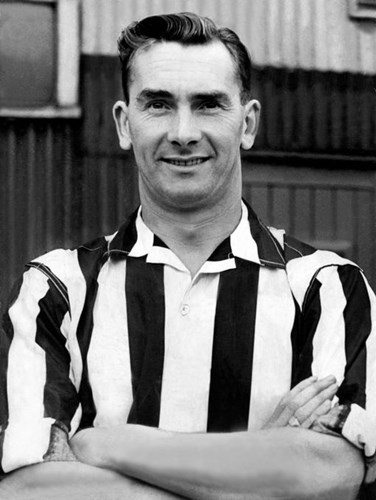 Jackie Milburn
Fans remember Jackie Milburn
Of Jackie Milburn, Beryl remembers:
"Of Course Jackie Milburn was the hero. If I shut my eyes, I can see, well I think I can, I can see Jackie Milburn running down the wing. Oh it was marvellous. it was wonderful.
For Beatrice:
"Some feel Jackie Milburn didn't get the accolades that he was due simply because he was a very shy and retiring sort of a guy. And it was always felt and still is today that if you play for Newcastle you won't get a game with England, you will be overlooked….. Oh he was a lovely player. I mean he was another one of these elegant players, he didn't have a bad bone in his body, Jackie Milburn. He was a bit like Gary Lineker when he wouldn't foul anybody deliberately. He was very elegant player, fast you know, he did the 100 yards in 9.7 or something."
Mary remembers meeting her hero by accident one day:
"You wouldn't believe this but I was in a book shop in Newcastle and there was a few people, it was a busy book shop. It was Thorne's Bookshop in the town. I got served and I went to go back, and I bumped into somebody and it was Jackie Milburn standing behind us. I caught his toe and I said, "Oh I hope I haven't injured you" [laughing].  I can still see him with his mac, he used to wear those macs, and he just put his hand on my shoulder.  Oh that made my day [laughing]."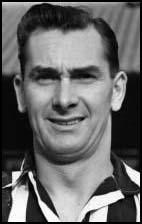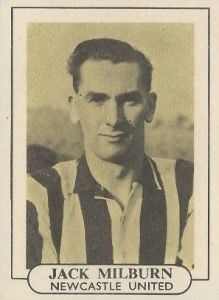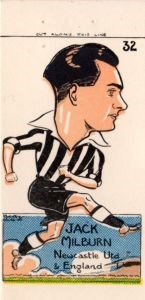 The Exiles have written a wonderful tribute song about Jackie Milburn, called 'Wor Jackie':