Many women interviewed recalled their match day costumes. Replica shirts and mass-produced merchandise all lay in football's future; this was a time for individuality and home-made outfits. But the black and white Newcastle club colours have always been an important part of a Newcastle fan's identity.
Mary remembers wearing homemade knitted hats and scarves and gloves to matches that she knitted herself. She also took a rattle, a colcreek.
"I had rattle, what they called a colcreek".
Images of the football stadium from this time often show the hordes of men in flat caps and suits. But they do not tell the story of the individually crafted match day costumes worn by girls and women that were quite 'feminine' in appearance. For example, Judy says:
"I had a black dress with white spots. For black and white. And I had a little skull cap. Me mam used to crochet all the names of the players on me little cap. Me little hat. And I had mittens for the winter. She used to crochet the names. Every name of each footballer on me mittens. And I had a colcreek (a rattle.) "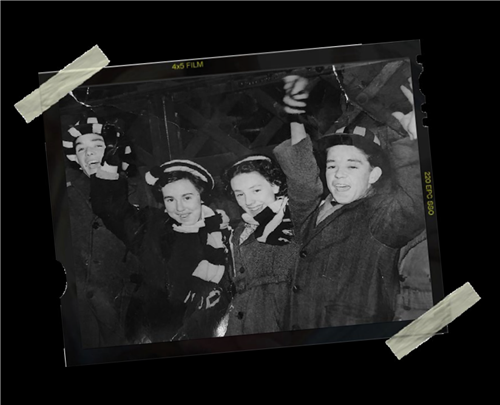 Krystal recalls colcreeks for celebrations:
"It's a wooden stick and it has bits across that way that move, so you know how people swirl a flag, you swirl it…It made a terrible noise but you can imagine if everybody had a corncrake
Krystal has always knitted herself a black and white scarf made from pure wool:
"I knitted myself a scarf, pure wool, and it's still used now, I take it for the winter matches now."
Beatrice remembers:
"Some people had these rattles and waving their scarves, and you didn't wear a strip it was a scarf. Nobody wore a football top. You had a scarf and a rattle."