It may seem odd today, but to Newcastle United fans in the 1950s, both women and men, the FA Cup seemed to be even more important than the Football League. This was despite the club being in the top flight of English football, the First Division, throughout the 1950s.
It wasn't just Newcastle United fans who saw things this way. Fans of other clubs did too. This  was an era when the FA Cup seemed to have a special 'magic'.
What made it particularly special to Newcastle United fans was that the club won the FA Cup three times in the 1950s: in 1951, 1952 and 1955.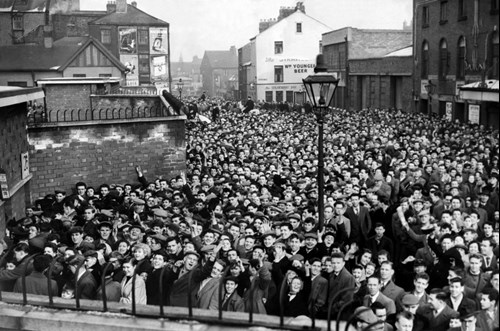 Newcastle United fans queueing for tickets for the Sixth Round FA Cup tie at St James Park against Sunderland, in 1956. These fans were to be disappointed, as Sunderland won 2-0.
Beatrice remembers the excitement of the FA Cup in the 1950s, and how it seemed more important than the League:
"It was really exciting. Oh yes, I mean there were flags out everywhere, all the shops were decorated because the team then I can't remember the league being very important, it was more the cup. More the cup yes. It was just such an exciting time, it was, it was brilliant."
For Mary, the Cup was always more important than the league:
"It (the FA Cup) was more to me. Do you know I can be honest with you, it never really got to me whether they won the league or not, we used to go and enjoy the game, the football game on a Saturday afternoon. If they won, they won, if they got beat, yeah. Does that sound odd? Because that was the way we felt."
Judy  remembers the glory of the FA Cup for Newcastle United in the 1950s:
"Well, I went to Wembley four times. We won three times (in the 1950s) and we got beat once (1974) the times I was there. So, I was there three times when they won. It was the Jackie Milburn days. we used to go on the train to the Cup finals. And we had great times."
Joan recalls the excitement in the city when the team got to the FA Cup finals:
"Oh, yes, there was banners out. The streets were all in black and white, and in those days, you didn't dye your hair, but some of the kids would have the white streak, with the black and white – black, here, and a white streak down it. Everybody went to town, in those days. They had their faces painted."