Beryl remembers that there was no turnstile for girls at St James' Park, only boys. Girls were clearly not expected to attend:
"I think I must have been 11ish. And he said (her father) I could go to a match - well- I hammered on you see because I wanted to go, because I'd heard the lads at school talking about the football, going to the match, because they were all Newcastle supporters… And he did take us. And he made us go through the boys end. I couldn't take the full money. I had to go through the boys end. It had turnstiles you know. And there was one for boys' under age. I had to go through there."
Ava first went to a match in 1958, when she was 17:
"Dad was going to the match one day. When I got home he said, "Why don't you come to the match with me?" And I thought, "Well I don't know", but anyway I got hooked. And he got me a season ticket, and I was in the Paddock and he was spot on the halfway line in this seat about five seats back, and when he was on holiday or anything I used to get it."
One day Krystal's grandfather said to her:
"Krystal, I've never taken you to a match, I've got that man's ticket for Saturday", I said, "this Saturday? That was against Man United, you know the ones that all died in the crash", he says, "yes that's right", well I mean you can imagine sitting in that stand. That was my very first match, sitting in the Millburn Stand near the centre watching the Busby Babes".
This was in 1956, two years before the Munich air crash, in which tragically many of the outstanding young Manchester United team, known as the 'Busby Babes', were killed.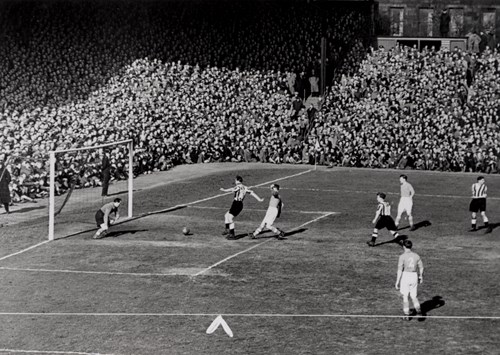 St James' Park, c. 1950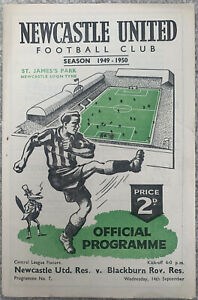 A fascinating article by David Morton of the Newcastle Chronicle on the Busby Babes' last visit to Newcastle United, in 1957, is at: https://www.chroniclelive.co.uk/news/history/busby-babes-last-ever-visit-13937868
This Pathé News film footage of a game at St James' Park in 1953 with a crowd of 61,000 gives a great idea of what the atmosphere was like:
https://www.britishpathe.com/video/newcastle-v-swansea/query/newcastle+united