There was another hero of football who, not just in the 1950s, but throughout her life, gave so much to the game that she loved, in the north east. She arguably gave more to football than any man. This is "Cissie" Charlton.
Elizabeth "Cissie" Milburn was born in Ashington, Northumberland, in 1912. Her father, Tanner Milburn,  was a coal miner, and a prominent goalkeeper in local football.  Her four brothers all played for Football League clubs - Jack, George and Jim with Leeds United, Stan with Chesterfield and Leicester. Her cousin was Jackie Milburn, of Newcastle United fame. She was to have two sons who would win the World Cup for England in 1966: Bobby and Jack Charlton.
Cissie was as keen as her brothers on football when she was a child:
"I was a rough-and-tumble tomboy with no time for girls' toys or girls' games. Lads' games played on lads' terms and lads' territory — that was what I wanted. And why shouldn't I? I could kick a pig's-bladder football just as far and just as straight as any boy. I could run as fast and I could punch as hard as well…
… But in spite of my family background and my love of the game, I was born a woman and that little twist of fate decided there was one member of the Milburn clan who would not have a career in football. Daughter, wife and mother would be my role in life….
…. I loved sport at school, although the only games on offer were netball for the girls and football for the boys".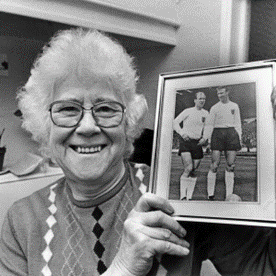 Cissie with a photo of Jack and Bobby playing for England
Image courtesy of the Newcastle Chronicle.
Cissie married Bob Charlton, a coalminer, and they had four boys: Jack, Bobby, Gordon, and Tommy. Cissie would no doubt have liked to go and watch her cousin Jackie Milburn play for Newcastle United, but there was the question of money, and the fact that she had four young boys to look after.
When Jack and Bobby were old enough, Cissie gave them the money to go and watch Newcastle United. As Jack recalled:
"Jackie was our famous uncle. Me and our kid would watch him every other Saturday at St James' Park. It was a ritual when I was around 10 or 11. Cissie would give us 2s 6d and we'd catch the bus from Ashington to the Haymarket and nick round the corner to the British Home Stores restaurant for our dinner. We'd grab a plate a piece and they would serve us as we went along the line. Then we would run up to the ground and into the popular side. We always stood at the front as near to the halfway line as possible. It was lovely to watch Jackie, Joe Harvey, Bobby Cowell and the rest. We could literally see stars. After the game we'd go across the road and queue to get into St James' Hall and watch the wrestling. That finished around 9.30pm and we would catch the last bus back to Ashington where my mother or father was waiting at the bus stop to take us home."
But as the boys grew older, Cissie found her role in football. As she wrote in 1988:
"Football was in my blood and it would not be denied.  The language, the history, the tactics and the personalities of the game were part of my upbringing and as familiar to me as to any man. So there was no way that I would ever be content as the `little woman at home' who placidly listens while her menfolk talk about what happened on the pitch or the terraces. I wanted more than that. I needed to be there, I needed to be part of it.  Whether it was on the terraces of Wembley, or the sidelines of a  miners' welfare ground watching two local teams play – or even chasing up and down a school pitch with a team of tots. That, for the past seventy six years, is where I have wanted to be. That has been my goal!"
You can read about Cissie's life in her fascinating autobiography, simply called "Cissie". She died in 1996, at the age of 84.