In the 1950s it was not regarded as 'the done thing' for a woman to go to the football on her own. This may have been regarded as socially unacceptable.
Eliza remembers that:
"In those days women didn't go on their own. I don't know why. I just accepted that I would be going with my boyfriend. I went on my own to watch the reserves. But then it wasn't a crowded ground (for the reserves matches). I could just lean over the barrier quite easily. And see everything."
Krystal recalls that:
"I'd say, "there's a match on at Newcastle, can I go?", and then in between boyfriends when I didn't have one, I used to latch on to the lads at work, I would say, "are you going to the match tonight?", "Oh are you tagging on?", "if you'll let me", I used to have to go with the fellas from work because I never had any girl friends that liked it you see."
Simon remembers that his aunt:
"was a huge Newcastle United fan. She was attending games from before the first cup run in the 1950s. Her boss at the time would sell her individual tickets, as a woman travelling alone was frowned upon. She went home and away through to the final when her boss decided that he needed the ticket. At that point she purchased a season ticket, which given the outlet at the time, was a bold thing for a girl. She met and fell in love with a man with the same passion and they got the tickets together in what now is the Milburn stand".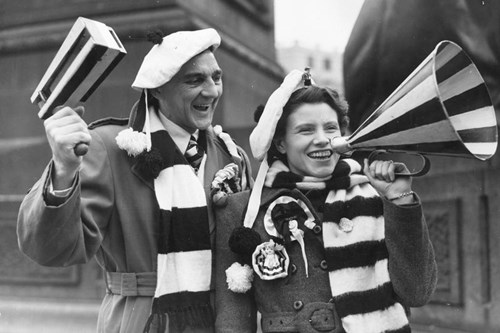 Mr and Mrs Taylor ready to support Newcastle United in the FA Cup final against Arsenal at Wembley, May 3, 1952. They are pictured in Trafalgar Square.
Image courtesy of the Newcastle Chronicle